our anniversary is our yearly reason to be extravagant. it's the time when we go to 5-star hotels and dine at their best restaurants. but since we're paying for everything for our december wedding, spending thousands of money was not in our itinerary. and so, we decided to have an inexpensive 3-day celebration of our anniversary.

day 1
- 05 november 2004
we wanted to schedule our food tasting on november 7, the exact date of anniversary. but if we insisted on it, our ae would have been forced to work over the weekend. since we didn't want to get bad karma, we decided to schedule our food tasting at 6:30 pm on november 5, the friday right before our anniversary.
since our food tasting was scheduled a few months ago, i already informed everyone in our office that i would be working only until 2 pm on november 5. on the last few working days of october, a client requested me to attend a meeting on which was supposed to end at 2. at 6 pm, rey called to inform me that he was already in mandarin. at 6:15 pm, i was still at the meeting and there was no sign that the meeting would end in the next few minutes. desperate, i requested the partner-in-charge to let me off the hook. since he knew of our food tasting, he let me go (and did all the work himself! i love
V&A
!!!) i was already in trafalgar, which is just a street away from mandarin. BUT, i needed to go back to the office to return the office laptop and to get cash from the vault. when i got out of trafalgar, i knew i needed to walk if i needed to reach mandarin on time - i couldn't see the end of the line of cars. and so with a lap top and a folder of documents, i walked to our office in perea street. it took me 15 minutes to get there.
i brought the laptop and my files up to my room and got some cash. i met
carlo villonco
at world topps (which was just in front of my office) to give him our downpayment and to sign our contract. our meeting didn't last 5 minutes (but he had to wait for me for an hour!)
at 6:40, i was on my way back to mandarin. traffic along paseo was bad as usual so i decided to walk again. i thought it would be easier since i was no longer carrying the laptop. i was mistaken. when i got to the underpass at the corner of ayala and paseo, i learned that it was temporarily closed. so, i used the underpass near makati ave. as usual, my sense of direction failed me and instead of just going straight to makati avenue, i walked back towards paseo. feeling intelligent, i took a short cut through the park.
and then it rained. it only rained for 3 minutes but it was enough for me to get drenched. in the middle of the rain, rey gave me a call. i couldn't understand what he was saying so i just told him that i'd see him in a few minutes. i continued walking. when i got to mandarin, i wanted to kiss the doorman! but i'm sure he didn't want a kiss from a drowned pig with hair plastered all over her face.
after attempting to look presentable ("attempt" being the operative word), i finally got to meet rey at 7 pm. at that time, he was already with our ae, kate. on the table was our first dish, the suckling pig combination. it looked and tasted so good! after we took our first bite, the waiters served our dishes one by one. everything was delicious (except for the prawn balls and milk rolls which rey loved. he so loved them that he even ate our ae's portion!) but i guess all the cholesterol on the peking duck attacked my brain cells and made me stupid - i remember giving cryptic answers when our ae was asking about the physical arrangements for the wedding and i totally forgot to take down notes!
it's a good thing that our ae promised to send us a copy of the notes that she made. she also requested a meeting with balay kandila and sound sydrome.
after the meal, rey and i kept on talking about how good tin hau food is. he said that the only dish that he didn't like was the chinese style tenderloin which i really liked! the solution was simple - we'll treat the tenderloin and the prawn balls the way we treated the suckling pig and the peking duck. he gets to eat my portion of the suckling pig and the prawn balls and i get to eat his portion of the deking duck and the tenderloin!
we laughed our way to merk's greenbelt where rey ordered his favorite mushroom and garlic. the band, forte, wasn't at their best so after their first set, we decided to go home.
it was a good start.

day 2
- 06 november 2004
we got to taste our remaining wine bottles on saturday night when we celebrated the birthday of pia, rey's former officemate. rey loved the terra vega 2003 cabernet sauvignon which tasted bolder than the sol de chile 2003 cabernet sauvignon. i didn't like both wines. i found them to coarse.
at 12 pm, we decided to leave pia's party so we can celebrate our anniversary. we got to kiss at the stroke of midnight.
day 3
- 07 november 2004
on the day of our anniversary, it was difficult for us to decide where to eat. we ended up eating breakfast in rey's house (i loved the rolls that rey bought from bizu! it was perfect with spam.) for lunch, we decided to try the new roastbeef pizza of pizzahut. after our meal, we decided to treat ourselves to some cheap thrills and went to quiapo to buy some dvds!
going to quiapo on a sunday was a crazy idea. there were people everywhere! and for each 3 persons, there was 1 vendor. quiapo also gave a new definition for street market - people literally sold vegetables on the street. it was a challenge going to hidalgo street but we managed it. after getting the information that i needed, we walked towards the place where we got our dvds.
on the way to the otherside of quiapo, we passed by the handicraft stalls and saw lovely bags being sold at unbelievably low prices! we wiped out their inventory (hey, they only had 4.) we also passed by a small grocery where we bought drinks.
then we got to the place where rey gets his dvds. there were as much dvds in that place as there are people in quiapo! and everything was so cheap that we ended up buying 20 dvds.
happy with our purchases we decided to have dinner.
we wanted to have dinner at a place where we frequented when we were a new couple. we didn't want to eat in dencio's libis (where we had our first date) as we don;t like the food there. we couldn't go to season's (where we had our first date as a couple) as it was already closed. we then thought of eating at tong yang where i ate a whole specie of shrimps several years ago. the last time we ate there was a couple of days before aya and cindy left for new zealand. (aya will be standing with rey when i march down the aisle in december.) i was still in law school then.
tong yang is a hot pot restaurant. customers get to pick ingredients from a long table and cook them in a hot pot and a grill in the middle of the table. rey was in charge of the soup and the meat while i took care of the seafood. there were no shrimps (they probably hid all their shrimp when they saw us coming) but there were prawns. we cooked everything by ourselves. the prawns turned out raw and all the nutrition was boiled out from the veggies but we still enjoyed our meal. we went home really happy. rey dropped me off at my house at 10:30 pm.
it was a good end for our weeklong celebration.
however, i, who never had any problems sleeping, was still awake at 2am. i decided to wake up rey and bug him to come over the house. it was not a good decision as we had a little fight.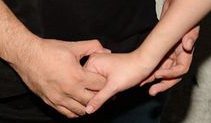 day 4
- 08 november 2004
the next day, i woke up with a huge headache and major back pains. i called in sick and stayed at home. rey came over to play nurse and brought some of the dvds that we bought. we watched the flying daggers which featured beautiful actors but a lousy storyline. we loved the cinematography, though.
for dinner, we ordered pizza from shakey's. this time, we decided to get our favorite - garlic and cheese with anchovies, mushrooms, onions, italian sausage and extra cheese. it was delicious!
while having dinner, we watched reruns of will and grace and queer eye for a straight guy on etc. we laughed so hard on the former and critized everyone and everything on the latter. we had so much fun!
we really enjoyed the unplanned 4th day that we were both sad when rey had to leave. and so we reminded ourselves that in less than 2 months, we would be living together.
as rey walked out of our house, i realized that our 4-day celebration was a little window to our 10 years together - lots of laughter and fun, a few tears, some adventure and loads of good food leading to some quiet time at home with a dvd player and a tv.