after my long absence from blogging, i am finding it difficult to blog again. so i'll just use pictures to remind me of how i enjoyed the month of may.
Hi, I'm Abie and I am a butong-pakwan addict.
Yup, despite suffering from chinese food syndrome (i have too much salt in my body so i get dizzy), I have to admit that I am now addicted to watermelon seeds. B and I have been munching on butong pakwan everytime we watch a dvd. and we watch a dvd almost everynight (which is one reason why we haven't been blogging)! We've tried most brands available in supermarkets. We love the ones sold by Shopwise - they have a smokey flavor. Toby's is second best. Each seed tastes like a generic butong pakwan but it's easy to crack unlike that of Sid's which requires a sledgehammer to crack (I didn't wear braces for years just to ruin my teeth trying to eat a water melon seed!)
I can't believe I wrote a whole paragraph on butong pakwan.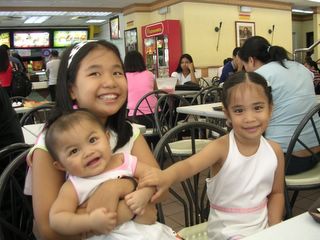 My mom's birthday (May 12) is pretty close to Mothers' Day so when she was still alive, my siblings and I tried to make Mothers' Day extra special. Since her death a few years ago, we have toned down our Mothers' Day celebration but we always make it a point to bring our families together. This year, we all met at her grave and brought the kids (my three nieces - Nikki, Sophie and Sam) to McDonald's in Eastwood for breakfast (they really are a good excuse to have the Langgonisa meal.) We so enjoyed our little get-together that we left McDonald's only after the lunch crowd has finished eating.
Last Sunday, we attended Sophie's ballet recital at the Podium. We were all worried about Sophie having a tantrum and refusing to dance onstage (she's just 4!) But the whole time that she was performing (she was in 3 numbers) she was smiling and she seemed to be enjoying the performance (of course she had her own choreography but who cares?!) She also looked adorable in her costumes! I was such a proud aunt.
This should be in part 2 of this blog (which I'm planning to write in a couple of days) but I couldn't wait to brag about my new shoes!
This beautiful pair was given to me by G, B's daughter (I'd love to be her mom but she already has 3 moms. In any case, I also enjoy being her tita as I get to be her kikay buddy.) G spent a few weeks in the US with her maternal grandmother and this pair was what she gave me for her pasalubong when she got back last Monday. I was so excited that I wore them today. Aside from being pretty, they're pretty comfy, too. I had them on the whole day and even walked from our office in Perea to Greenbelt 3. And I didn't get a single bruise from my new shoes!
Speaking about G, she has bloomed into a pretty lady this summer. During the past 2 months, she shed a lot of weight and with her newly straightened hair, our sweet little girl has transformed into a lovely teenager. (I can't believe that she's the same baby we brought to Malabon Zoo almost a decade ago - I almost fainted when she squeezed the snake!) She'll be in first year high school this June and I am so excited for her! (I wonder if B shares my excitement - he already got stressed when a male caller asked for G. I can still hear him say, "She's not here" when his daughter was only in the next room.) I'm not too worried about her, though. With the pair of shoes that she gave me, I am convinced that she's got great taste.